Performance and Style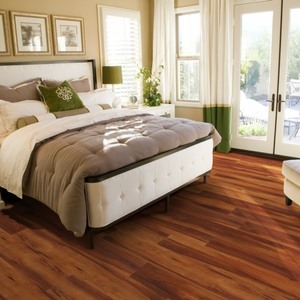 Vinyl plank flooring is one of the fastest-growing flooring types in residential and commercial settings, mainly because it combines real wood looks with premium, long-lasting performance. How does vinyl plank flooring compare to hardwood and laminate? Let the experts at McCalls Carpet One help!
Appearance
For the most part, vinyl plank floors look and even feel exactly like real wood floors. As a result, it is not uncommon for us to refer to vinyl plank as vinyl wood flooring. In fact, at first glance, it's easy to mistake vinyl plank for real hardwood!
Wear Resistance
Vinyl plank floors have super-strong top layers, so they are resistant to scratches, scuffs, and virtually all other impacts. Consequently, vinyl plank floors never need to be refinished, regardless of foot traffic. At the same time, vinyl plank flooring is stain resistant.
Water Resistance
Unlike hardwood, vinyl plank flooring is waterproof, so it's suitable for kitchens, bathrooms, basements…pretty much any area in the home. Most vinyl planks also have strong cores to prevent them from expanding or contracting when exposed to moisture or intense humidity.
Comfort
Vinyl plank flooring, because it's made largely from synthetic materials, is much more flexible than hardwood. As a result, it's softer and warmer underfoot. To add, many vinyl plank floors have special bottom layers that are made from soft materials such as cork.
Installation
Vinyl planks are easier to install than hardwood planks. Most vinyl planks can be installed using the "floating" or "click" method, in which the planks attach together and remain over the subfloor without any special adhesives. This installation method is gap-free, so there are usually no spaces between the planks.
Visit our Nashville, TN store today to learn more about vinyl plank flooring!