Our Hardwood Refinishing Services
Anybody who has seen hardwood floors understands the beauty, warmth, and character that only hardwood can offer. Unlike other flooring options, hardwood can be sanded and refinished over time to remove normal wear. At McCalls Carpet One Floor & Home, we have the experts and the professionals to help you keep your hardwood floors looking good as new. Visit us in Nashville or Franklin.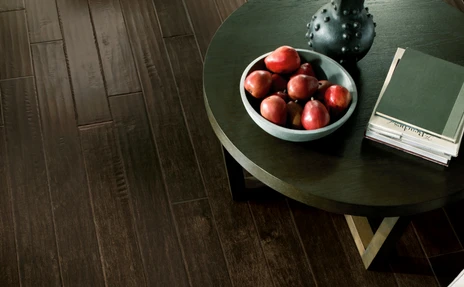 To determine whether or not hardwood floor refinishing is necessary, use this simple test. Place a drop of water on the floor's surface and watch what happens. If the water beads at the surface, then the finish is still strong and the floor is protected. If the drop soaks in after a few minutes, then the floor will need to be refinished soon but not necessarily right away. If, however, the drop soaks in immediately, then the floor needs to be refinished.
Don't be stressed if your hardwood floor needs to be refinished. Simply contact McCalls Carpet One in Nashville and let us handle refinishing for you. We'll send over a professional who will properly inspect your hardwood floors to determine the best course of action. If refinishing is necessary, we'll first sand the floor's surface to ensure smoothness and to eliminate any wear and scratches. When the floor is adequately sanded and cleaned, we will add new finish to the surface. The finish will seal the wood to protect it from moisture and wear, and it also will enhance the floor's appearance with extra shine. We promise that your hardwood floor will look good as new and that it will remain protected for a long time!
We have a professional team on call to help you get your hardwood floors refinished. We utilize dustless equipment during the process to ensure your household stays clean. You also have the option of choosing our premium services that includes our special Lagler Trio Three Disc Sanding Machine that leaves your hardwood floors smooth and with reduced swirl marks.