An area rug can be the difference between a flawlessly designed space that feels warm, cozy, and unique, and a room that feels like it's missing something. The advantages to investing in area rugs far outweigh the cost, as they can be used as an accent piece in your stunning foyer or even just to protect the bare floor from dirty shoes in the mudroom. When it comes to today's most beautiful area rugs, there are tons of options to choose from. Maybe you're looking for something bright and colorful to reflect your art-deco living room or maybe your taste leans more traditional and you want a soft, neutral shade to tie the room together. Whatever your preferences may be, don't worry —you can find a rug to perfectly suit the needs of your space! Not quite sure what you're looking for yet? That's okay, too —there's bound to be an area rug out there for you!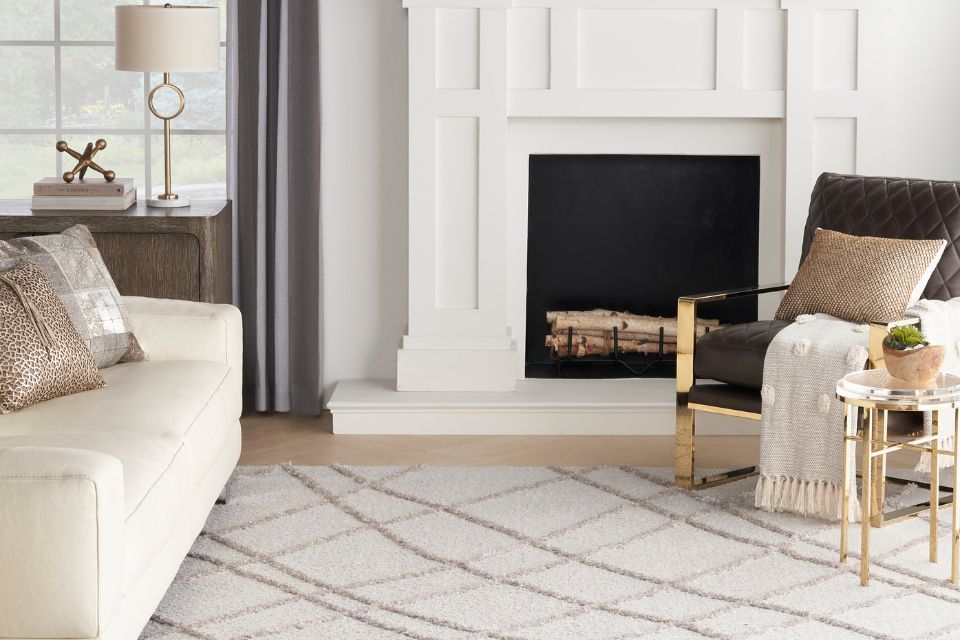 Feather Grey area rug by Nourison
To help you find the perfect area rug, we're sharing a few tips from how to choose the right style to area rug placement.
Choosing the Right Style
When it comes to area rug style, consider your existing design space. Do you naturally gravitate towards bright, bold colors or do you like traditional earthy hues? Does your space already have a lot of neutrals and could it use a splash of color? Take into consideration rug sizes, colors, and materials. Here are a few popular styles:
Neutral Area Rugs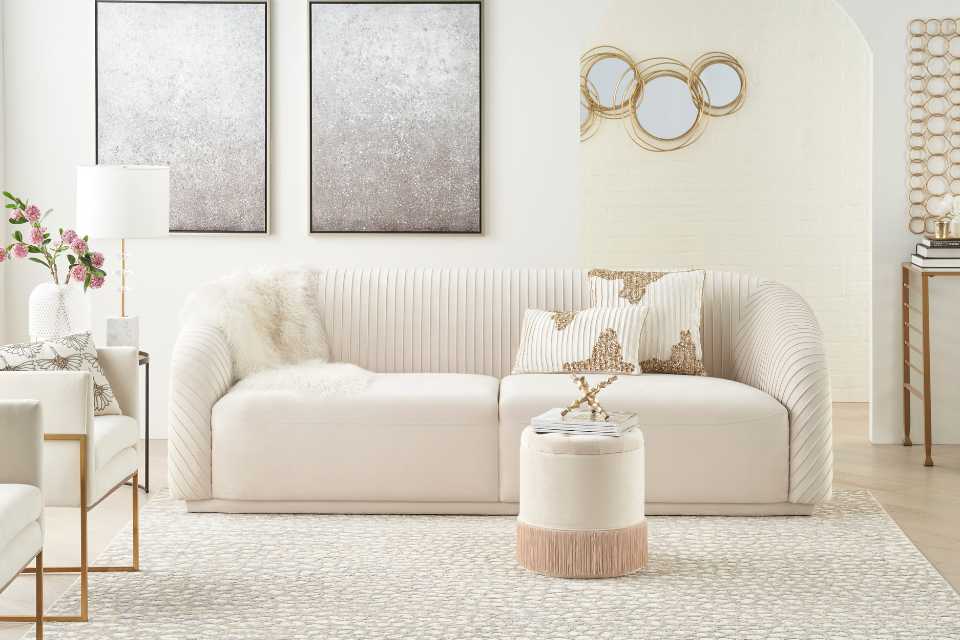 Ivory Beige Grey area rug by Nourison
Natural and neutral home colors are currently all the rage. Earthy, muted shades of brown, white, black, and blue can be found in even the trendiest of designer homes across the country. To capitalize on all things neutral, simple, and beautiful, try a neutral living room rug that captures the essence of a home inspired by neutral colors. Or, choose a neutral living room rug simply because everything else you own is colorful, loud, and overstated!
Geometric Area Rugs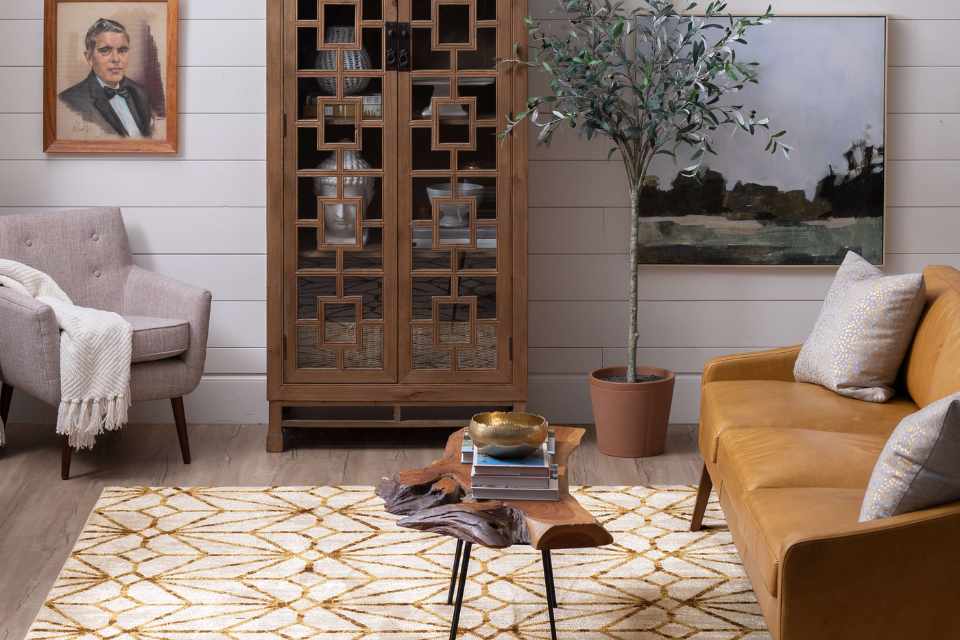 Artisan Celeste Brushed Gold
Octagons, triangles, rectangles, and various other shapes are taking the design world by storm. Whether it's a kitchen backsplash or an entryway accent tile, these shapes can be seen throughout emerging designs almost everywhere! Similarly, geometric living room rugs are becoming more and more available and prevalent, thanks to their one-of-a-kind appearance and ability to add a modern flair to a space. Don't be afraid to go bold with geometric area rugs and make them a focal point of your design.
Modern Area Rugs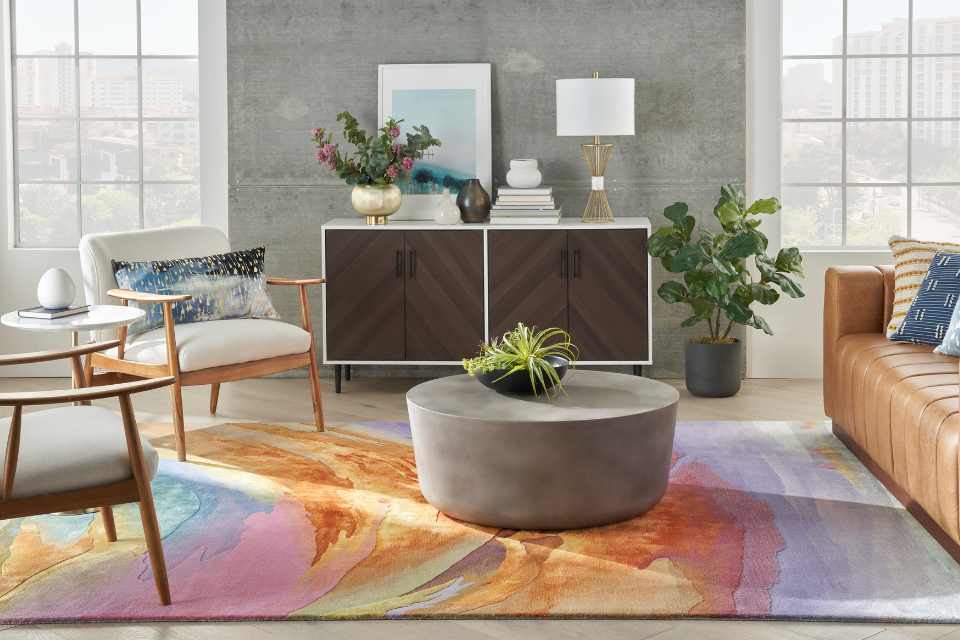 Social Prism Multicolor by Nourison
The perfect addition to a space full of clean lines, sleek flooring, and metal finishes is a modern living room rug. Modern, abstract living room rugs feature a few different colors and offer the eye and mind some time to get lost in their sheer beauty, especially when situated against other materials that can otherwise come off as cold or monochromatic. For just the right amount of the modern look and warm touch, try a modern living room rug with pops of color.
Blue Area Rugs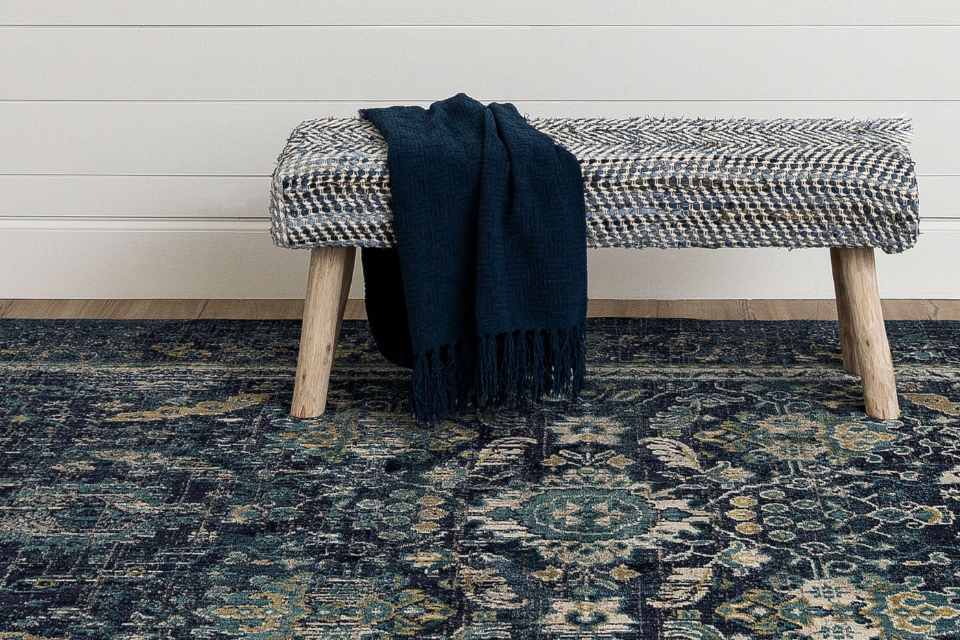 Estate Cumbria Indigo by Karastan
A blue rug can bring the perfect balance of color and calm to a room. What's unique about the color blue is how easily it can take on your design scheme. Do you want to make your room feel like an upscale palace, but also like a lived-in space? There are plenty of shades that can accomplish this, like navy, sapphire, or gray-blue. Looking for the perfect edgy piece? There's an abstract area rug on the market that suits your needs. Also, blue is an excellent choice when used in conjunction with other bright colors to enliven a space.
Placement of Area Rugs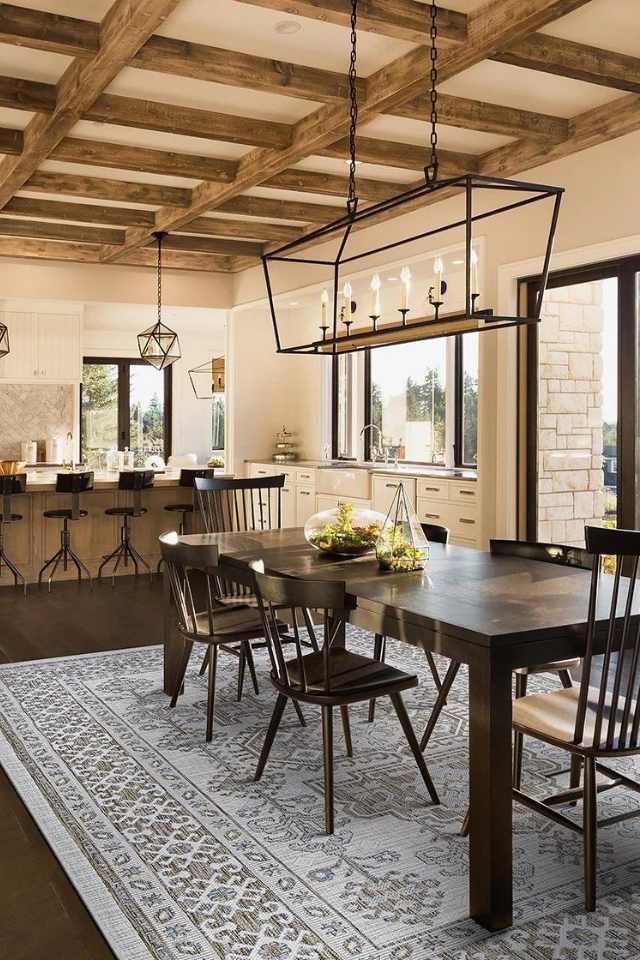 Charm Collection in Woodburn by Couristan
One of the key things to take into consideration when shopping for an area rug for your home is area rug placement. For instance, you might place a round area rug under your coffee table or a long runner in your kitchen galley, but you wouldn't place these smaller rugs under a dining room table —instead, you'd opt for a larger area rug that encompasses the dining table and chairs.
When it comes to area rug placement in the bedroom, think about where you want the area rug to sit in your space. Do you want it to fit underneath all of your furniture or do you just need it to fit right beneath the bed? Leaving the nightstands off of the rug is a great option if you don't have a symmetrical space with two nightstands, you have oversized nightstands, or you want the rug design to be seen more.
How To Measure Your Room For An Area Rug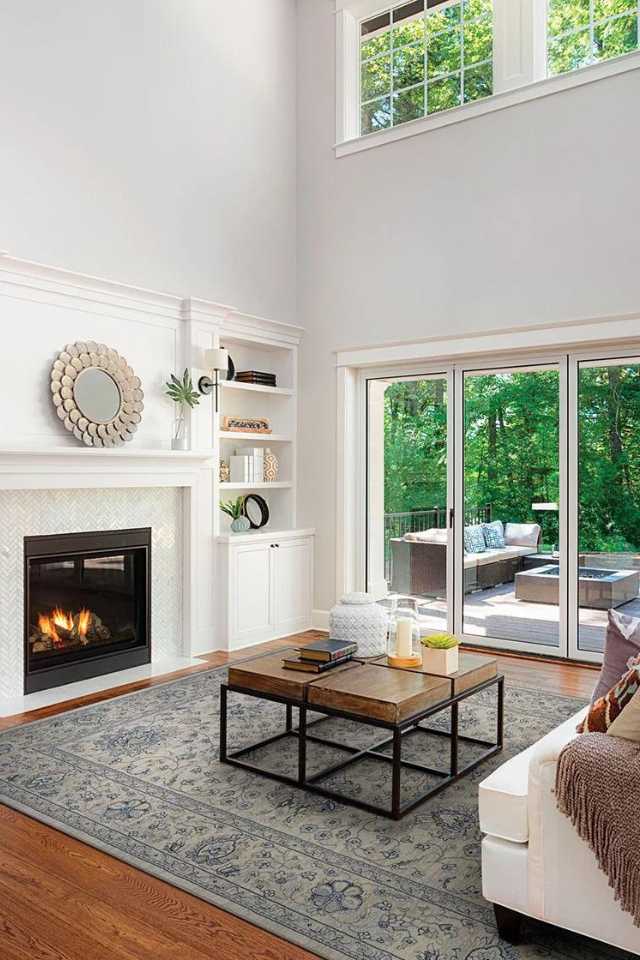 Sultan Treasures Persian Isfahan by Couristan
Decide on how much coverage you want. For instance, in the bedroom ask yourself if you want to get out of bed in the morning and feel the rug beneath your feet, or do you just want it for its visual appeal? Knowing the answer to this question will help you find the right rug size. If you have a queen or king-sized bed, an 8x10 rug generally works well for this placement. If you have a larger bed, a 9x12 rug could be an option as well.
For rooms with a unique or challenging shape, you have a couple of measurement options. Rug sizes vary —for as many area rug designs there are equally as many rug sizes. A good rule of thumb to follow when measuring for an area rug is to make sure that the area rug is 6 inches wider than the furniture you're placing it under and that you're leaving 30 to 36 inches of walkway space between larger furniture pieces.
Large vs. Small Area Rugs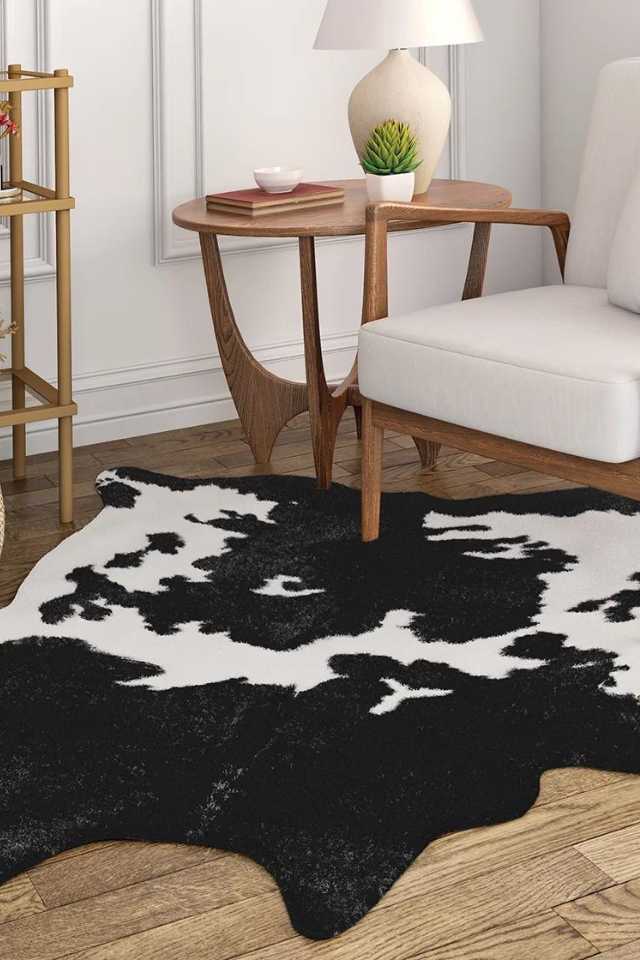 Prairie Hides Collection by Couristan
If you're in a compact space, it's no secret you'll need a smaller area rug than if you live in a larger space, where the rug will need to take up more real estate to fit beneath all the furniture. For instance, a smaller room, like a nursery, probably cannot encompass a full-sized oriental rug, but instead, a faux sheepskin rug under the rocking chair might lend itself nicely to the space. A larger rug is perfectly suitable for large spaces like the family room or living room since it can fit comfortably under couches, chairs, and other furniture. To find out what size area rug is best for your space, check out our guide on choosing the rug size for your living room or entryway.
Are you looking for more information on area rugs for your home? Talk to the experts at Carpet One Floor & Home and learn more about how you can bind area rugs with our help. Or check out our blog to find all kinds of design tips and tricks —you might find just the right inspiration to get started!