Design by MARGARITA BRAVO | Photography by TAHVORY BUNTING
Expert designer Margarita Bravo gives us a glimpse into her recent project of a modern home renovation, where she utilizes unified texture, shapes, and lighting to design a functional family home.
What were the needs of your clients, and how did you consider them when designing this space?
The family needed to make this a functional home since they have three kids and a dog. We wanted to accomplish their desired aesthetic, which was a more modern farmhouse style, while at the same time taking advantage of elements and architectural features of the home that could be reused and repurposed.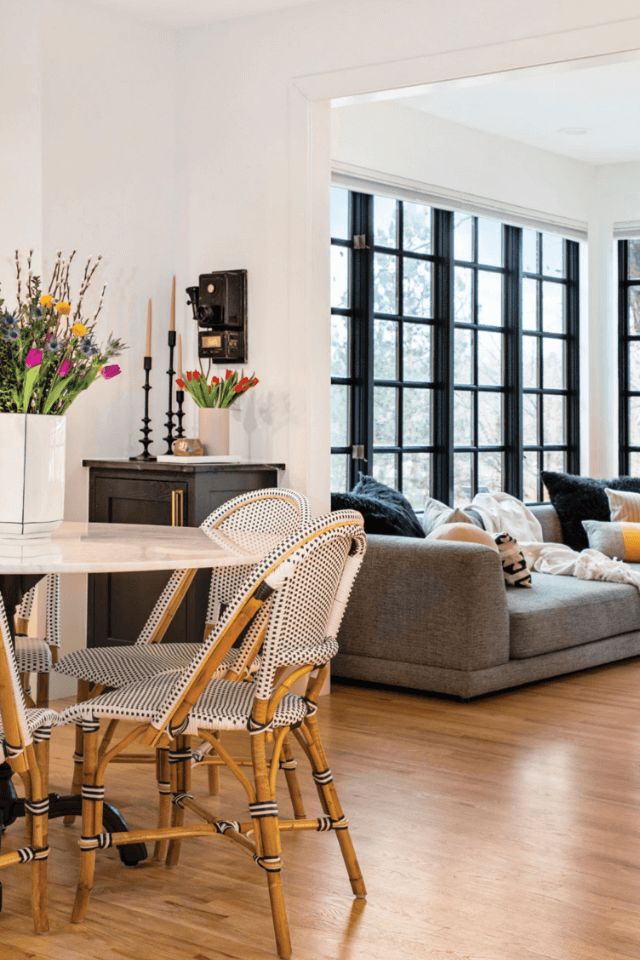 There's a lot of beautiful artwork, vintage fixtures, and handcrafted pieces throughout the home. Is there a story behind this and how did it inspire the spaces you created?
A lot of these elements were brought from the clients' west coast home and our job was to add home decor and a few furnishings to make the rooms look finished with clean lines and reflect their personalities at the same time.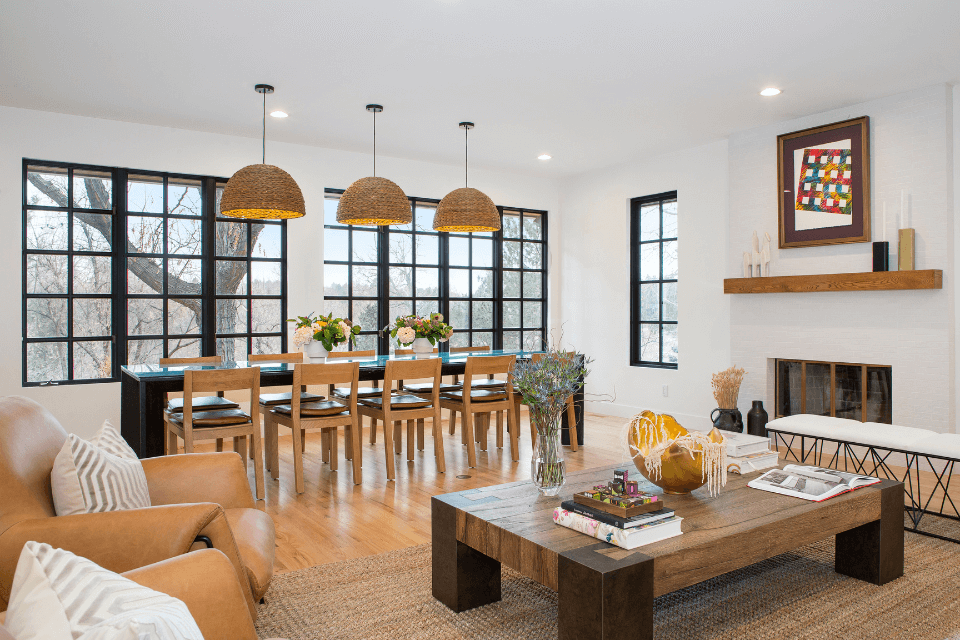 What are some things to keep in mind when designing an inviting, yet functional entryway?
We wanted to open up the space as much as possible and create focal points to complement the area with traditional farmhouse decor. Embrace the use of light fixtures, interesting railings for stairs, home decor accessories, and art. Make sure that you are adding elements that will work for the client's lifestyle, like entry consoles, and closets for coats, purses, and hats.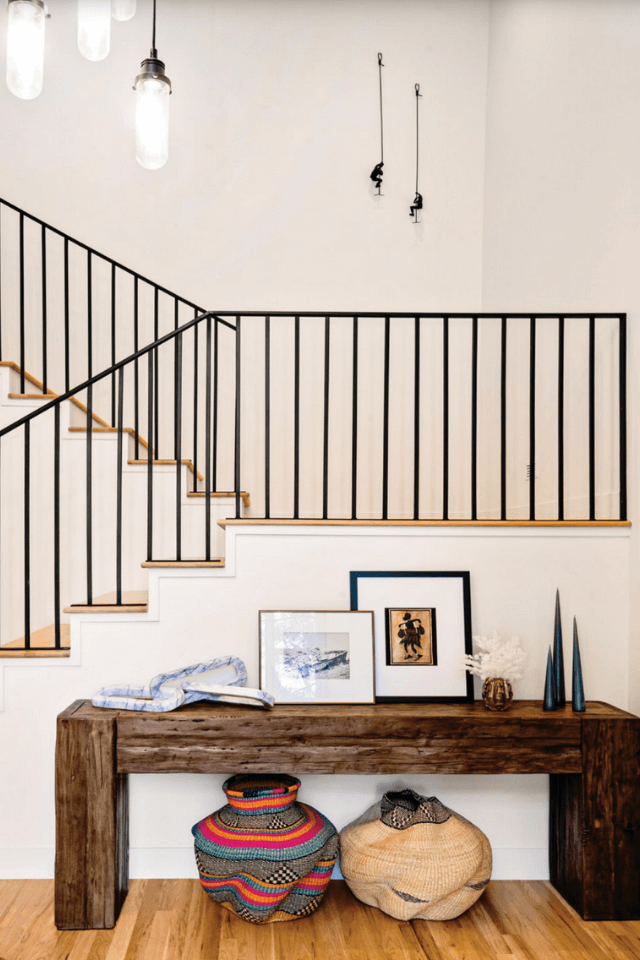 What was the inspiration behind the color palette of warm neutral colors and dark finishes throughout the house?
The inspiration was modern farmhouse interiors with a combination of aging elements and creating that contrast with bright walls and darker accent colors.
What made you choose these gorgeous golden-toned wood floors that are installed throughout the house?
We kept the existing hardwood floor that had a medium to dark traditional stain. We all agreed that the floors were in good shape, keeping in mind that we wanted to reuse as many existing elements as possible.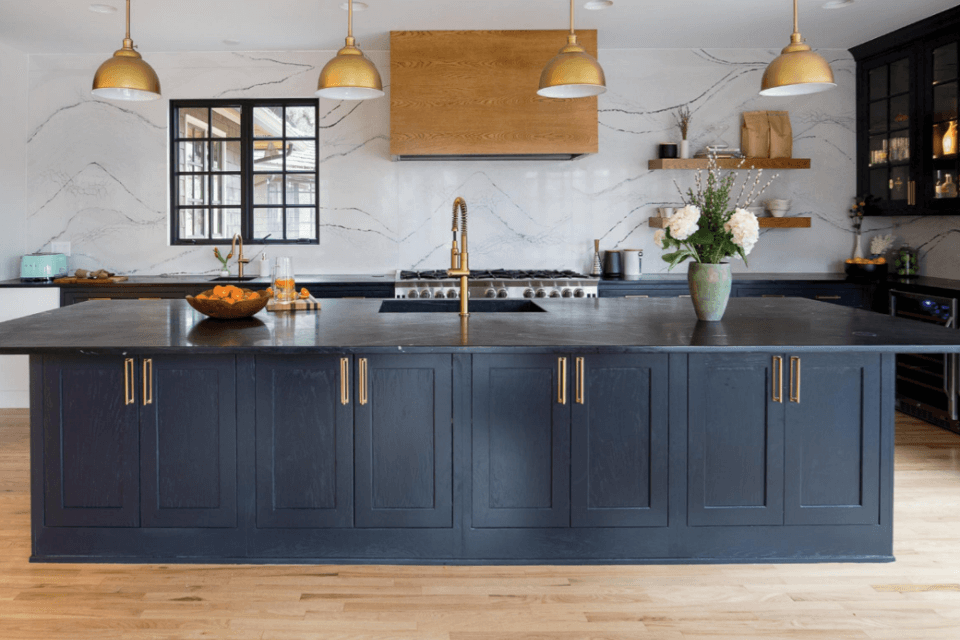 Talk to us a little bit about the idea of playing with texture and shapes in the living room.
Originally the room had a lackluster fireplace and we wanted to add dimension by bumping the fireplace out with framing and drywall from floor to ceiling. We tiled around with white brick and built a mantle onsite. For this client, this formal living room functioned better as a formal living and dining room, so by adding the half-spear pendants to the dining area we created the definition between the two spaces.
The bathroom is stunning from the natural slate tile floors to the black metal finish details. Talk us through your process of designing a spa-like bathroom.
In my mind, a master bathroom always needs to have that spa-like feeling, so with the dark tile, we reflected the edgy style that our clients have in the sense of a modern-looking bathroom, but at the same time kept an organic colorway and natural feel. We evoked the spa-like feeling with the oversized shower that has two shower heads that independently function, and also the freestanding tub with the wood elements that bring that cozy, organic warmth into the area.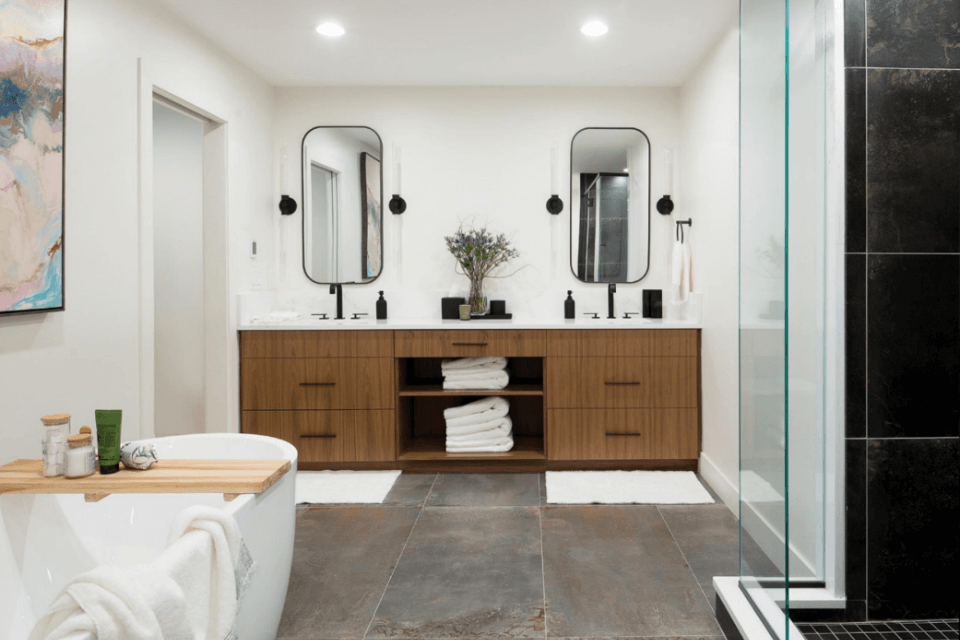 We love the way you play with natural light and different kinds of lighting in the home, especially in the open-concept kitchen and living room. What are your top tips when it comes to selecting lighting for your design?
For me, lighting is the cherry on top, the final touch that elevates the space. Sometimes lighting gets neglected when I think it should be the other way around —take the time to find the focal piece on the horizontal plane. That doesn't mean it has to be the more expensive piece, but it has to be a well-thought-out and intentional piece.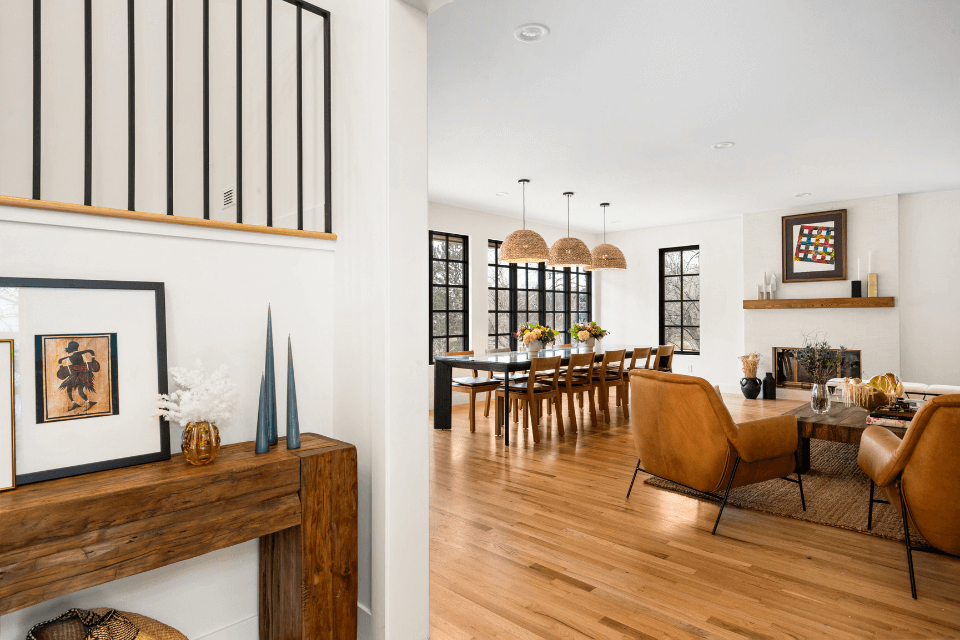 This home renovation features a lot of natural wood finishes from the dining room chairs to custom shelving and a built-in oven hood in the kitchen. How do you strike a balance between different wood finishes to tie a place together?
It's important to have wood finishes, but to also have other neutrals throughout so you are not overwhelming the space with wood. The balance between wood, metal, stone, and tile and how you find that perfect balance of natural materials to create a well-rounded space —that is unique. So, incorporating wood the right way elevates the space and brings that warmth and organic feeling into the home to get that modern farmhouse look.
---
Margarita Bravo is the founder and chief creative officer of Margarita Bravo Interior Design. Bravo expertly combines her clients' aspirations and her own creativity to curate personalized spaces with timeless finishes, resulting in an unmatched customer experience.
Stay in the loop with the latest trends and draw inspiration from top-notch sources! Explore our Beautiful Design Made Simple blog, where design experts offer valuable advice and insights to enhance your design journey.