Our Armstrong Selection
Armstrong is one of the most popular names in flooring, and we at McCall's Carpet One have you covered with a selection of Armstrong vinyl and hardwood.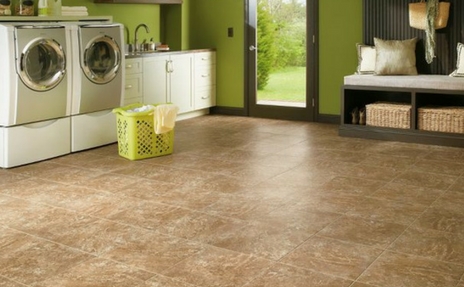 Vinyl Flooring
Hardwood and stone flooring are certainly noted for their natural looks and feels, but because of durability issues, they are not always best for residential areas such as kitchens and bathrooms. How do you achieve these natural looks in areas with moisture? Be sure to check out vinyl flooring from Armstrong. Vinyl looks like hardwood, stone, and tile, but, since it's made completely from plastic, it is strong, stable, and waterproof.
Armstrong vinyl flooring certainly combines natural beauty with premium durability. There are multiple natural looks available, including traditional wood, exotic wood (bamboo, for example), limestone, and even slate. These looks are all truly authentic because Armstrong utilizes its own print technology. At the same time, Armstrong vinyl remains extremely durable. Every vinyl floor has a strong wear layer that protects against scratches and scruffs, and there are also additional layers to protect against foot traffic and moisture. As a result, Armstrong vinyl is definitely suitable for kitchens, bathrooms, laundry rooms, and other rooms with moisture.
Armstrong vinyl is available in a number of types, including both tiles and planks. Armstrong vinyl tile looks like ceramic or stone tile, but it is more durable and even softer underfoot. Armstrong vinyl plank flooring, on the other hand, is made to look like hardwood, but with extra durability and warmth. So, no matter which natural look you want to achieve, there's an Armstrong vinyl floor to suit your needs!
Hardwood Flooring
Armstrong not only offers quality vinyl flooring; it offers hardwood flooring as well. We at McCalls Carpet One are excited to carry a selection of Armstrong American Scrape hardwood. Simply put, American Scrape hardwood combines the long-lasting luxury of hardwood with the American landscape.
How does Armstrong represent the American landscape? It takes American-made timber and styles the surface with hand-scraped textures. These textures certainly add character and personality to any home. Also, Armstrong offers a variety of different wood shades, including golds, reds, and browns.
There are two unique scrape looks within the American Scrape collection: rustic and refined. Rustic scrape has a richly-textured look that really emphasizes the grains of the wood. These floors have high character levels and, given the name, fit more rustic room looks. Rustic scrape is available with both solid hickory and solid oak. Refined scrape offers a more luxurious look since the floors are only lightly scraped. The floors tend to be smoother than rustic scraped floors, so they fit more modern looks. Refined scrape is available with maple, walnut, and cherry woods.
Although the looks of Armstrong American Scrape hardwood are most significant, the strength and durability are certainly worth mentioning. All American Scrape floors include a lifetime urethane finish that protects against scratches and stains. This finish ensures that the surfaces will look as good as new for a long time! Also, American Scrape hardwood is strong and stable enough for foot traffic and other impacts.
Be sure to visit our Nashville, TN store to learn more about Armstrong American Scrape hardwood!